---
Seamstress/alterations ?
I used this place and she did a
FANTASTIC job. She made a chair cover
for me to match my nursery.
~Heather
---
Dear Julie,
Thank you so much for the wedding card and all the alteration help. I have received so many compliments on how beautiful my dress fit, all thanks to you!
Thanks, Jennifer
P.S. The bustle you made with the 2 silver hooks worked great!
---
Dear Julie,
Thank you for making Sarah's dress so complimentary! She looked stunningly beautiful. Although she did put on her straps for the dancing at the reception, I never once saw her pulling her dress up before that.
Sarah and Scott were very touched that you sent them a card and all the bridesmaids loved the little blue bow in Sarah's dress !
You're the best!
Sincerely,
~Carole
---
Julie,
It was so sweet of you to send your wedding wishes and discount! I will definitely be in to use it and I'll be sure to bring pictures.
My dress looked AMAZING! Thank you so much! Because of you, I felt like a Princess!
~ Sarah
---
Julie,
Thank you for a very pleasant experience! Sarah said she had a nice time.
Thanks for the tootsie rolls too.
~ Melissa and Sarah
---
Larry, as I mentioned the other day, Julie Ballard has always done all of my alterations on my uniforms and she is a local vendor with her partner Stephanie Bunting. Their shop Ballard Bunting Boutique is right downtown at 77 East Main Street (rear entrance) Phone is 410-857-1959. As new members and existing members struggle with getting their uniforms to fit right, Julie is intimately familiar with our needs. She mentioned to me that she would even deliver over to the band hall and be available for any help that members might need.
Julie would be most happy to talk to you about a program for the band.
Paul
---
Aug 10, 2010
I have used the seamstress services that Ballard Bunting provides on several occasions and always with results that exceed my expectations. From simple repairs to a zipper replacement, the work was beautiful. We also sent my 3-year old's favorite baby doll in for repair and she came back beautifully reconditioned. Prices were very reasonable and upfront. Friends have had minor to major dress alterations completed with complete satisfaction. I will continue using Ballard Bunting for all my seamstress needs!
---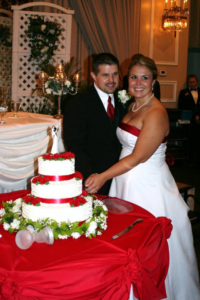 If you are receiving this email it's because you played an important role in helping me and/or Rob get ready for our wedding.  I just wanted to take a moment to thank you for the part you played and to tell you that we had a wonderful day, it couldn't have been better!
I hope this email finds you well, enjoy the picture!
Love,
April and Rob