Alterations & Clothing Repair
Mens, Womens, Childrens…..
Wedding Gowns, Christening Gowns, Prom Gowns
"All Special Occasions"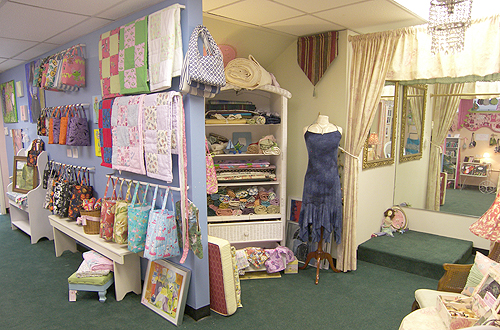 Here's a look at what you'll see when you enter our unique and inviting shop. Beautiful baby items, pillows and window treatments, purses and diaper bags, hand-painted chairs with custom cushions and so much more.
Not only can you buy what we have already made, but if you like, you can bring us your fabrics and we can create a special look just for you or your little one. Whether it's redecorating a room or making baby things in your favorite colors and prints, or you may see a purse style you love, but need it in another color, we can do it for you.
Window treatments and matching pillows can also be accented with a piece of original artwork by "Stephie". Or you may decide to add a piece of her hand-painted furniture to your home. Check out our 'Artwork' and 'Hand-painted Furniture' sections and see how special these items are.
The choices are endless since you can choose styles, colors, and prints on your own in your favorite store and bring them to us and we'll create the item you want.
Read Our old Blog
http://ballardbunting.blogspot.com
Showing 1–12 of 34 results