PROM SEASON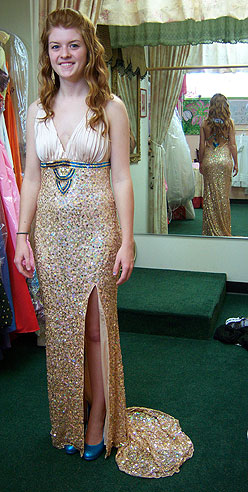 We had many beaded gowns last year and this year they are just as popular as ever…
Alyssa has chosen one in a color that is also very different and really goes with her beautiful color of hair.
Then the shoes – it's all about the shoes this year! Even with wedding gowns, the shoes have to be a vibrant and/or bold color to grab your attention. And Alyssa's shoes are complemented by the same color stripe in her gown.
Very very pretty !!!

---
As always we get a lot of girls bringing in their beautiful prom gowns. This year is no different.
Here is Meredith in an unusual orange color. I just love it because it is so different from what we usually see.
The design is just gorgeous and so flattering on her. She will be a knock out at the prom for sure.
Gown alterations vary a great deal depending on just what your gown needs to have done to fit you just right. So we can't list prices here for you to know the cost but are more than happy for you to call or email for an appointment to get a quote.
---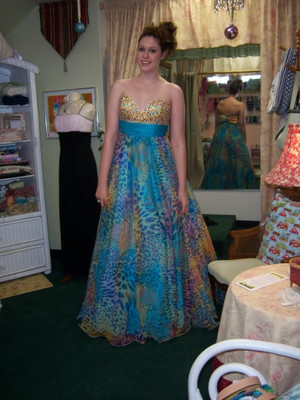 What a gorgeous rhinestone and multi-color gown Taylor has chosen for her prom.
It's unique look will certainly ensure that no other gown is quite like this.
No hemming was needed but we did have to remove some of the decorations and take it in to fit her just right.
How elegant and happy she looks.
Don't you agree?
Alteration prices are different for each gown so give us a call to set up an appointment.
---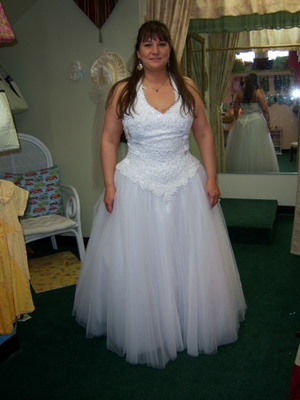 Choosing a wedding gown is part of the excitement of getting married. It should be a fun time for the bride and all the ladies in her life.
So once you have the gown, you want someone who cares to be the one to make it fit just right. That's our job here at Ballard Bunting Boutique.
Sherry chose such a pretty, girlie gown…so feminine.
All we did was alter the strap at her neck and hem it up, all five layers, and she is all set to get married on the beach in Hawaii.
---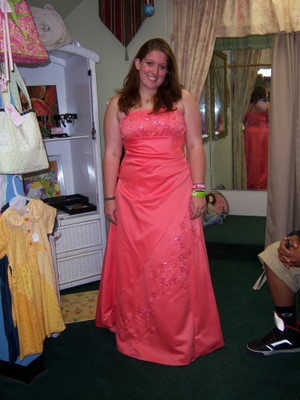 Shannon found this beautiful gown and fell in love with it, but alas it was not her size.
She called and made an appointment and asked if we could make it fit. Of course, we'll do our best.
And we did. We took some of the lining and made inserts that look like they were there when the gown was made.
The smile on her face for this picture says it all…she is so happy with the result and so ready to dance the night away at the prom.