CHRISTENING GOWN AUGUST 2011
Jamie brought us her beautiful wedding gown and asked us to make Madison's Christening Gown out of it and needed it soon for the special event.
Doesn't she look like an angel in the finished product !!!
Each gown is so special since it's from Mom's wedding dress. Here we made the sleeves and a delicate bonnet from the front overlay of Jamie's dress. So elegant.
All gowns are priced according to each specific job.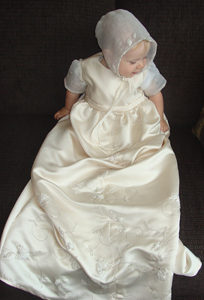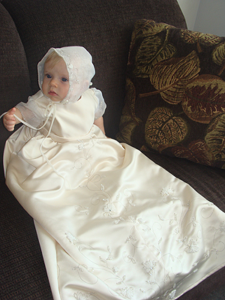 ---
CHRISTENING GOWN FROM MOM'S WEDDING GOWN
On the right you can see the christening gown being cut from Carol's wedding dress. And on the left the two gowns hanging side by side after the new one has been made.
There's enough left that the wedding dress can be hemmed to a floor length gown without a train, just in case Kaitlyn wants to wear her Mom's dress when she gets married.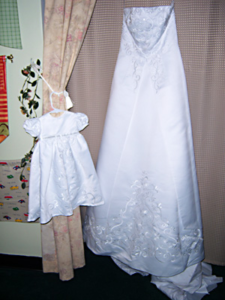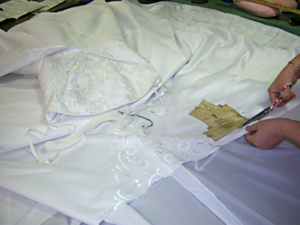 ---
Cathy came to me with an adorable outfit all cut out to make for her grandson but was a bit overwhelmed by it. Even after she'd done all the beautiful smocking to be inserted at the top. She asked if I could put it all together for her in a week. I said we could and here's the result.
So whether we start from scratch or finish what you've begun, we can do the job.
Priced according to job.