October Bride
Here I did well since you can see the front and back all in one shot. The dress drapes beautifully across the front and we've added hooks so it bustles nicely in the back for Denise to dance at her wedding.
Her dress actually needed the sleeves removed and the shoulders taken up three inches and then the sleeves made smaller and reattached. A good bit of the beading needed to be removed and then replaced after the alterations were completed.
This is why we can't give a quote on just what wedding gown alterations would be until we actually see the dress and can assess what jobs need to be done.
July Bride 2010
Courtney was my first bride this year. Her gown was so perfect for her petite frame. She traveled all the way from Virginia to our shop to have her dress altered.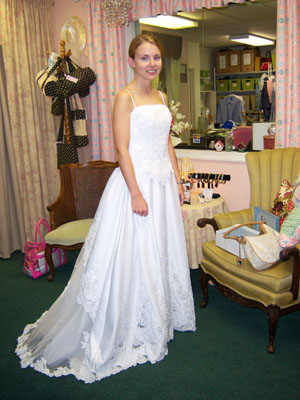 As I've said before, prices vary on alterations. For instance, this dress had a lot of beadwork on it and needed the beads removed to take the sides in and then I put the beads back on the dress.
Call for an appointment to get an estimate on your gown. 410-857-1959
August Bride 2010
Amy chose to have a Black and White wedding. Here she's pictured with her Maid of Honor, Jessica.
Each of the bridesmaids wore black dresses, choosing different styles. Great for the girls so they can easily wear the dresses again.
I wish I had asked Amy to stick out her toe so you could have seen the pretty hot pink heels she wore.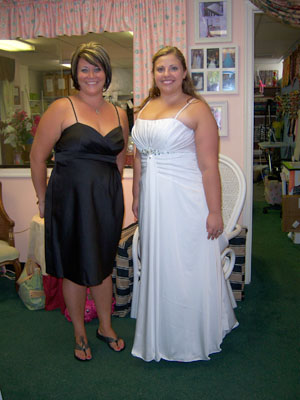 August Bride 2010
August has been a busy month for brides this year.
Here's a different dress trimmed in a deep red and laces up the back in the same color.
April is beautiful in this dress.